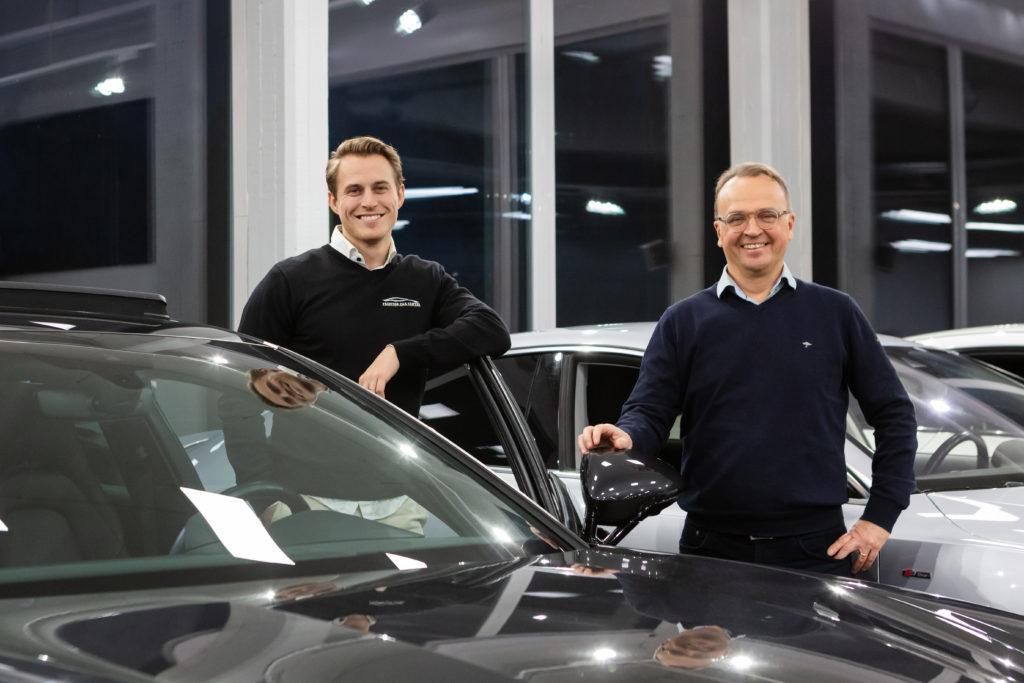 A successful entrepreneur is driven by sales
Rasmus Lönnqvist has been a car enthusiast all his life. He started selling cars as a part-time entrepreneur alongside his studies and daytime work. Once the business idea proved successful, becoming a full-time entrepreneur was easy.
Rasmus became interested in sales work when he was in primary school and sold Christmas magazines in his hometown of Hanko. Selling felt like a competition: the more you sold, the higher were the sales commissions. Dealing with people also felt easy.
Now, twenty years later, Rasmus has his own company, and his sales work is still about competing and dealing with customers. Every year the goal is to sell more and provide a better service than the previous year. He enjoys the smile on the customer's face when they get the keys to their new car.
Turning a hobby into a business
After elementary school, Rasmus graduated as a Business graduate, then as a Bachelor of Business Administration. More recently, he has studied economics at the University of Vaasa. He always worked alongside his studies, first in a sports equipment shop and later in a bank.
Entrepreneurship came into the picture when Rasmus was in college and started selling cars imported from Sweden on a part-time basis in the evenings and at weekends. Cars had long been his hobby, so working with them was exciting. As a part-time entrepreneur, Rasmus had one or two cars for sale at a time and a rental warehouse.
After about two years, it was clear that the business was profitable and could be safely expanded into a full-time business.
Not afraid of risks
Rasmus became a full-time entrepreneur in 2016. He now has 80 cars, offices in Vaasa and Helsinki, and two employees. His company Prestige Car Center Oy offers cars, financing, insurance, and financial leasing. The company also provides tyre storage, washing and waxing services.
The company has experienced strong growth, and in 2020, it reached the 181st place in the Financial Times' list of the 1,000 fastest growing European companies.
The risks are now greater than when he worked as a part-time entrepreneur, but Rasmus is not worried.
"I don't see a risk. I know our cars are good and well maintained. And I guess you couldn't be an entrepreneur if you were afraid of risks."
However, Rasmus admits that he would not necessarily have become a full-time entrepreneur if he had not first received confirmation of his business idea.
"It would have been much harder to abandon a good job to become a full-time entrepreneur."
Entrepreneurial spirit
Rasmus did not particularly dream of entrepreneurship. However, it is easy to see why he became an entrepreneur.
"I want to do something all the time, and I work a lot. I thought that if I was efficient and productive, it would be smarter to be an entrepreneur because then I would do all the work for myself. I also like making decisions."
When applying for a start-up grant, Rasmus was a customer of Vaasanseudun Uusyrityskeskus Startia. Startia's Director Tommi Virkama considers Rasmus an exemplary entrepreneur.
"Rasmus is service-oriented and is constantly developing his business. He is a good example of the fact that personality plays an important role, especially in the customer service sector. Starting a business is pretty easy, but the entrepreneur behind the business is often what determines how the company develops and succeeds," says Virkama.