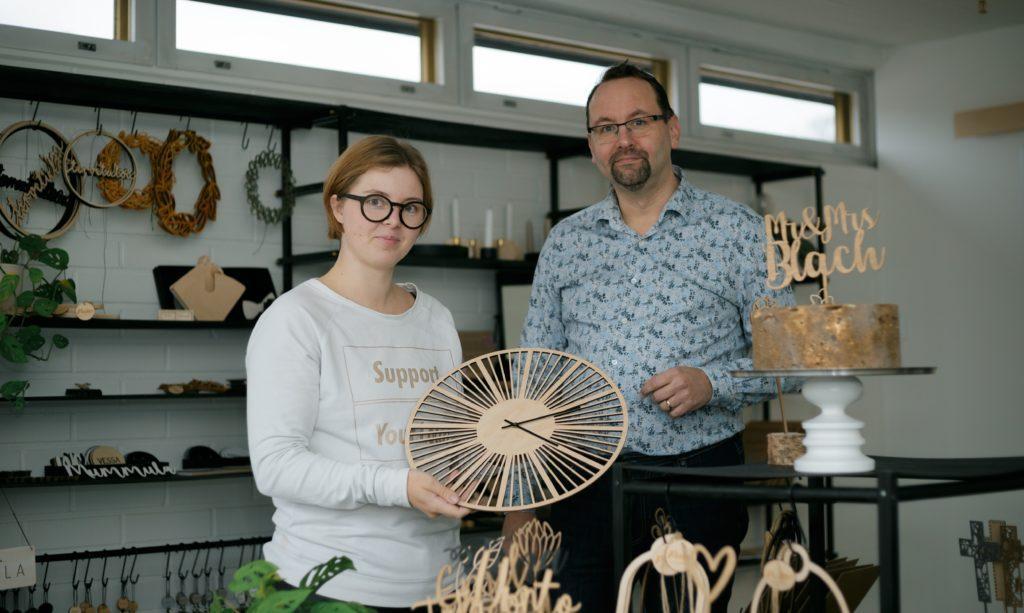 Visuality as a trump card
Jasmiina Kolehmainen markets her products for free on social media. Her home decor brand is a success, and online sales are booming. Thousands of likes on Instagram carry the message of Puine Oy forward.
asmiina has been marketing the products of her Lahti-based company almost exclusively via social media. Puine Oy makes small objects and ornaments from birch plywood. Jasmiina photographs the products for the company's website, Instagram account and Facebook page.
"I haven't really had much need for paid advertisements in my marketing."
Occasionally, Jasmiina has paid Instagram or Facebook to boost posts that have already attracted some attention on social media."We use up to €200 at a time to increase our visibility."
One of the ways Puine gains more customers is through people spreading the word about the company in groups on social media. In addition, Jasmiina publishes newsletters. The largest item of expenditure in Puine's marketing has consisted of a few trade fair appearances.
Thousands of likes
Puine is an excellent example of how a company can use social media for sales promotion in a sophisticated way.
Business Developer Mikko Kyle from the local Enterprise Agency, Lahden Seudun Kehitys LADEC Oy, is particularly impressed with the photography of Puine's products and the visually appealing e-commerce platform.
"Puine is one of the leading companies as regards the use of social media to market a product-based business. Thousands of Instagram likes cannot be wrong."
In Mikko's view, Puine has been great at telling the story of the company.
"Puine has done an exceptionally elegant job of building its brand."
Puine's revenue model is primarily based on online sales. Jasmiina believes that the informative content and visuals of the website are the most important factors.
"People won't buy things from a shabby-looking website."
Keeping the threads in her own hands
Jasmiina was studying for a Bachelor of Engineering degree in wood technology when she came up with the idea of taking a course for young entrepreneurs. There, Jasmiina was able to try her wings together with two course mates.
She already had an idea that was ready to go. Jasmiina had been writing a home improvement and interior design blog focusing on the renovations she had completed with her husband.
"I used to make objects and furniture out of plywood for our home. People took an interest in them, which sparked a demand for my products."
Jasmiina never graduated as an engineer. Her business took off and became her priority. For a long time, she persevered as a sole trader with the support of her spouse and worked long nights. Jasmiina was nervous about hiring her first employee.
"I've always wanted to keep all the threads in my own hands. I felt that there was a risk of hiring someone who wasn't right for the company."
Jasmiina was pregnant with her due date soon approaching when she opened a physical store in Lahti. At this point, she finally hired someone she knew beforehand.
Jasmiina only felt she had time for seven weeks of maternity leave. Since then, she has hired a few more employees. Her husband has also become a full-time Puine employee.
"I want to keep getting my hands dirty. In our company, I'm the one who does most of the design and planning of the products."