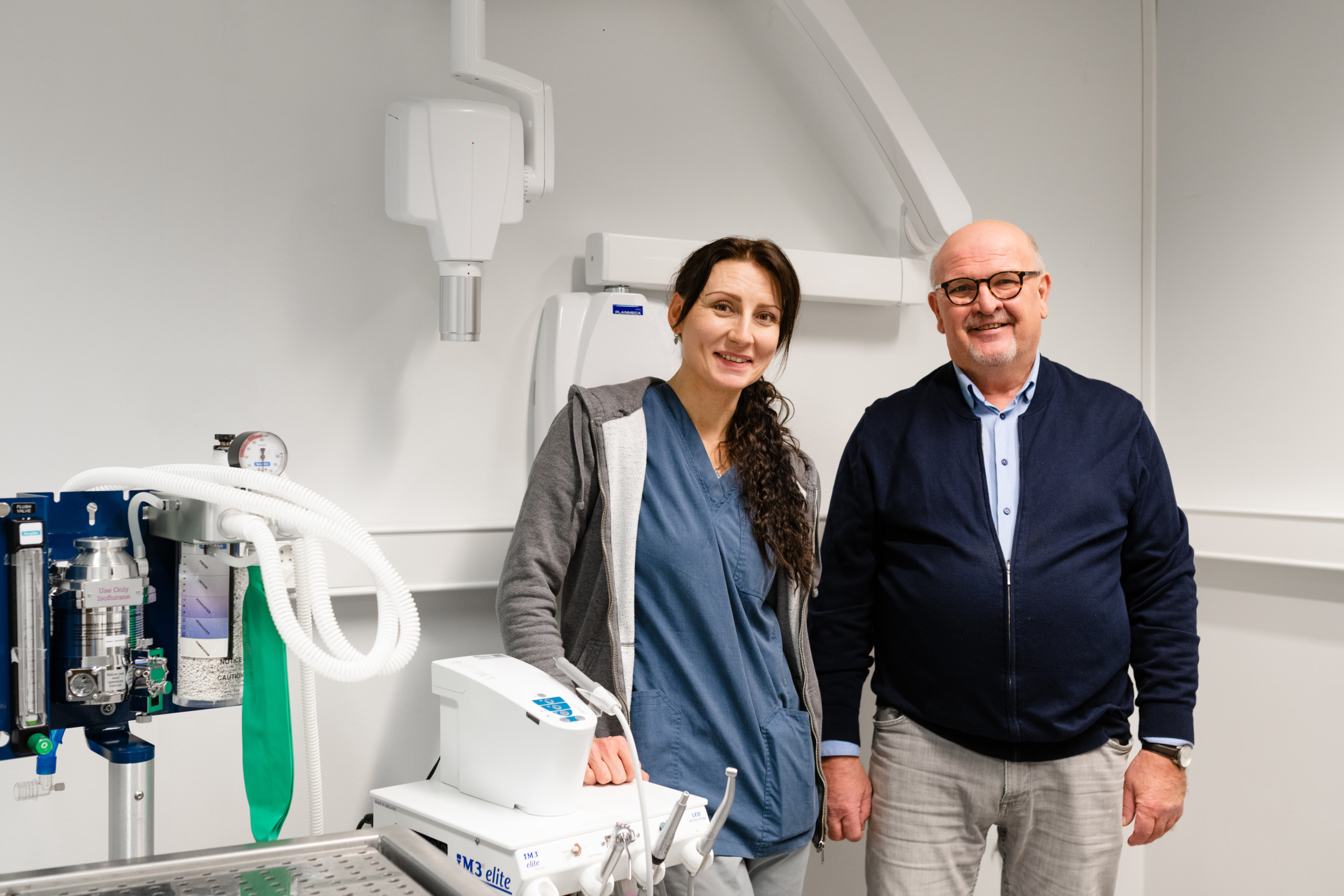 Making the best use of existing knowledge
Anne-Mari Miettinen decided to become an entrepreneur when the veterinary clinic where she worked closed its doors. Her veterinary clinic Eläinklinikka Norppa has managed to complement and expand the range of veterinary services in the Savonlinna region.
Anne-Mari Miettinen has worked as a veterinary nurse for over ten years. She returned to her former hometown Savonlinna to pursue her horse riding hobby.
– I started working as a manager at a recently opened small animal clinic. Already then, I learned what it takes to start a new company.
Anne-Mari managed the clinic's daily operations until it was sold to another veterinary chain. Anne-Mari transferred to a new employer, but already after two years, in 2018, the clinic ceased its operations.
– The chain management was not happy with the location of the clinic. However, I knew there would be enough customers, and I shared my idea of opening a clinic with my veterinary friend Anniina Jääskeläinen.  She immediately got excited about the idea and decided to become a partner. Since I was familiar with everyday life in a veterinary clinic, I did not hesitate and decided to put my knowledge to good use, says Anne-Mari.
In addition to Anne-Mari and Anniina, the company has two other shareholders, veterinarian Kaisa Juhajoki and veterinary nurse Riikka Niiranen.
Steady growth
The idea led to applying for licenses and permits, and soon Anne-Mari also contacted the Enterprise Agency Itä-Savon Uusyrityskeskus.  After a couple of meetings, Juhani Rouvinen, the managing director of the Enterprise Agency Itä-Savon Uusyrityskeskus at that time, was already convinced by what he heard.
– I quickly saw that the company had a good chance of success. I helped Anne-Mari draw up business and financial plans and pointed out the possible risks. The determined and forward-looking attitude of Anne-Mari and her partners strengthened my confidence in their success" says Juhani.
The company has seen steady growth ever since its establishment. The target turnover was already reached in the first year, and the company has been profitable from the very beginning.
– This is rare for a new company; sometimes it takes years to turn a profit, says Juhani.
Service first
For Anne-Mari, planning and preparing for a rainy day was important, and the Enterprise Agency provided the company with tools for planning its operations. Thanks to careful tendering and well-thought-out procurements, the company's operations have been stable from the very beginning. The operations have been developed with practical sense, taking into account the feedback received from customers.
– It's important to me that we serve our customers in the best possible way and don't make decisions with dollar signs in our eyes, says Anne-Mari.
A positive attitude has taken the company a long way. Thanks to a stable economy and a strong brand, which was already created before the start of operations, the company has also been able to weather the coronavirus pandemic.
– We have great customers and competent staff, and everything has worked well from the beginning. We are a low-threshold clinic, and we offer our customers exactly the service they need. I think we have succeeded excellently in this!