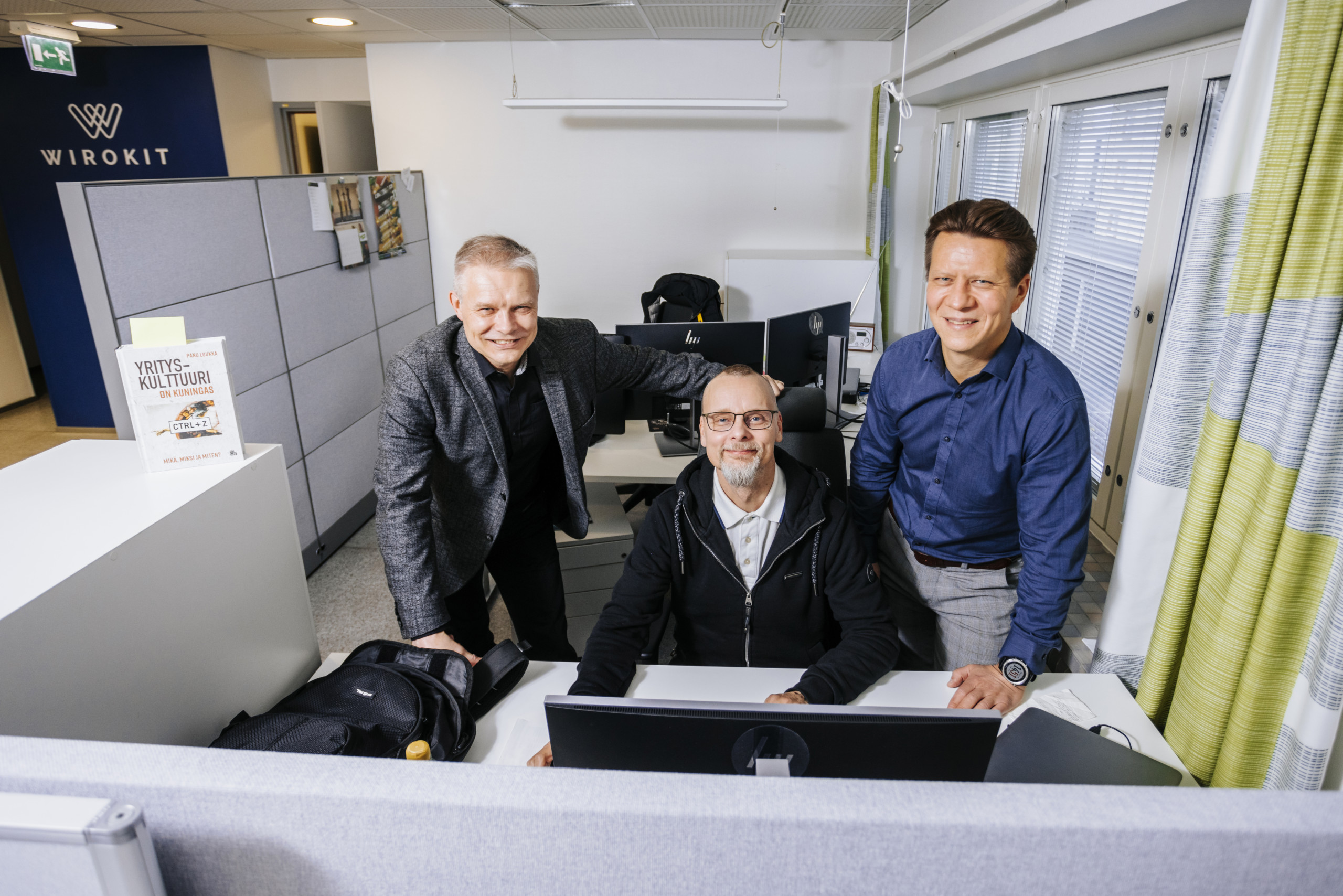 Growth through courage
Wirokit's entrepreneurial team hired a professional manager, who is now looking for growth in new industries and clientele. Networking and bold experimenting are the way forward.
Wirokit Oy, a company specialising in product development, software testing and quality assurance, was born in 2018, when 13 IT professionals and former colleagues decided to join forces and become self-employed. They already had one client, still the largest client for the company. Through recruitment, the start-up has grown into a software company employing almost 20 people.
– Expertise is our capital, and we are constantly developing it in every way we can. We want to find more good  people  who fit our values, says Jami Saarikoski, Wirokit's Chairman of the Board.
As client work filled the days, business development took a back seat. After two years of operation, the company hired a CEO to focus on new client acquisition, business development, and employee and customer experience to address the situation. Ari Loukasmäki, a business advisor at the Enterprise Agency Etelä-Pohjanmaan Uusyrityskeskus Neuvoa-antava, praises this decision. Ari helped Wirokit's entrepreneurs get started.
– Hiring a professional manager was a great decision and shows an open-mindedness and a willingness to pay attention to the whole company and not just the entrepreneurs themselves. It's important to view the company from the outside and not get too attached to your bubble, says Ari.
Courage to evolve
The company aims to grow in new sectors and with new clients. Scalable business models are being sought alongside the contract work of human expertise. In an ever-changing environment, you need to keep up with the pace.
– Networking with industry players and other entrepreneurs is key to staying up-to-date with all the changes and following the trends  of  the  future,  says  CEO  Tuukka Rantala.
Wirokit focuses strongly on developing their corporate culture, which they believe plays a key role in engaging employees. Ownership also has an impact, and new employees have been offered a stake in the company.
A old corporate culture with an experimentation mindset strengthens a company's development.
– It's important to try new things, but it's also important to find out what isn't working as quickly as possible. Since businesses are different, there is no one recipe for success – everyone has to find out for themselves. Curiosity is the best tool to develop a business, says Tuukka.
Getting support helped Wirokit's founders sleep at night
In the early days of Wirokit, the Enterprise Agency provided planning assistance, and the founders made use of the Enterprise Agencies' Guide for Becoming an Entrepreneur.
– At the start-up stage, we already had one client, so we jumped on a moving train. We received valuable support on the administrative side of things, which helped us sleep well at night, Jami explains.
Team spirit plays an important role in team entrepreneurship. Wirokit's founders also demonstrated a strong will of the owners and their shared leadership.
– Things won't work if no one takes the lead and roles and responsibilities are not shared. Wirokit's large team had years of experience, a willingness to take risks, an open mind and a belief in their own expertise, Ari adds.