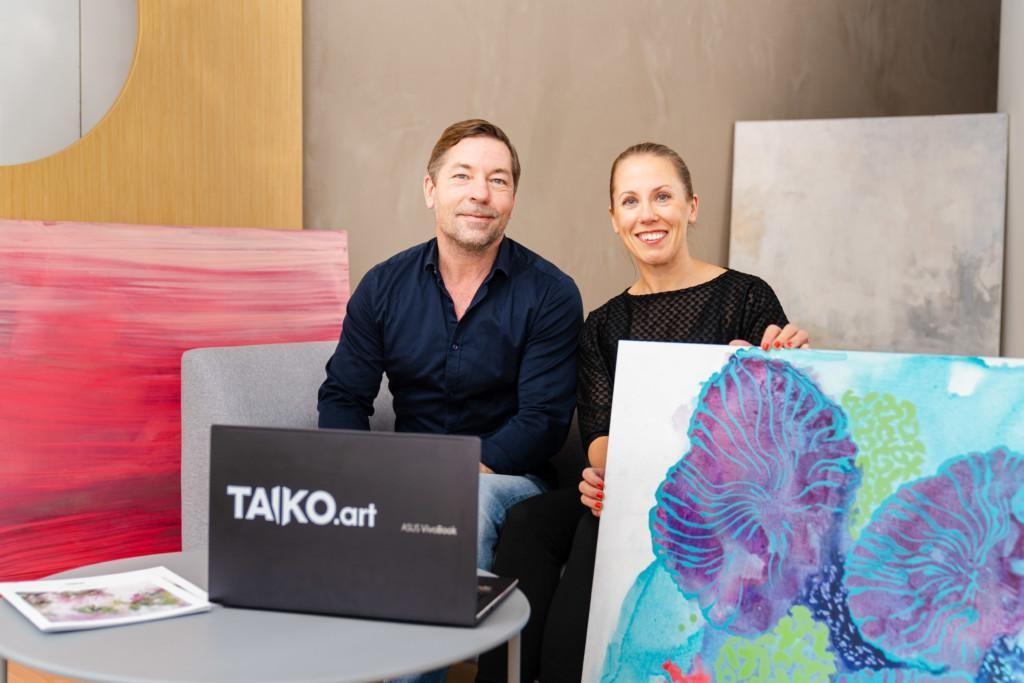 An entrepreneurial couple busting art myths
Pia and Patrik Edman from Kaarina saw a problem faced by people selling and buying art and honed the solution into a business idea: Taiko, an online store on a mission to make art available to everyone.
In the spring of 2016, Patrik was working at his own communications agency when he was approached by an artist in need of a website. They were short on money but fully stocked on unsold art. The artist wanted to keep painting but didn't know how to put the finished pieces on the market.
Pia and Patrik knew this was a common situation for artists: they didn't know how to go about selling their work. They soon discovered that buying art was equally complicated. This lack of a proper sales channel was a clear niche in the market.
"We were all in"
When the Edmans had the idea to start an online store for art, they realised they would both need to work at the company full time. Pia quit her job at an advertising agency, while Patrik wound down his communications business. All their savings went into the new company.
"The idea swept us away, and we were all in. We had full faith in our business idea," Patrik says.
The first order of business was to contact artists and put together a broad selection of art. They also prepared their consumer marketing in the meantime. The online store was launched in November 2016.
The Edmans made use of the services offered by their local Enterprise Agency, Turku Science Park Ltd, such as sales training and practical help with growing their business.
"You shouldn't just mull over your business idea on your own. Maybe all your business needs to take off is a bit of sparring," Pia says.
Reinventing a traditional business
The Edmans set out to reinvent a rather conservative industry. They wanted to bust the myth that art was something only a select few people could afford and understand.
The store offers art in different price ranges, crosses geographical borders, and moves the offering from galleries to the comfort of people's homes.
"The platform economy is a hot concept right now, and that's what Taiko is based on: it's a marketplace that brings actors together to offer a broad selection to the consumer," Patrik says.
As is common in the art business, the company charges a commission on sales.
Drumming up interest abroad
The Edmans wasted no time in registering the Taiko trademark for their company Demosarte Oy. It consists of the first letters of the Finnish and Swedish words for art, taide and konst. Taiko is also a Japanese drum, which reflects the company's mission to drum up interest in art, particularly on social media.
Entrepreneurship has been hard work, and the Edmans did not pay themselves at all in their first years of business. Today, the company is on a very positive growth trajectory. They have just hired their first employee. Their goal is to expand their operations abroad.
"Art has a universal appeal, and Taiko is a professional online store that can be scaled up to a broad international market. Pia and Patrik's enthusiasm is sure to take them far," says their growth advisor Johanna Puhtila from Turku Science Park.