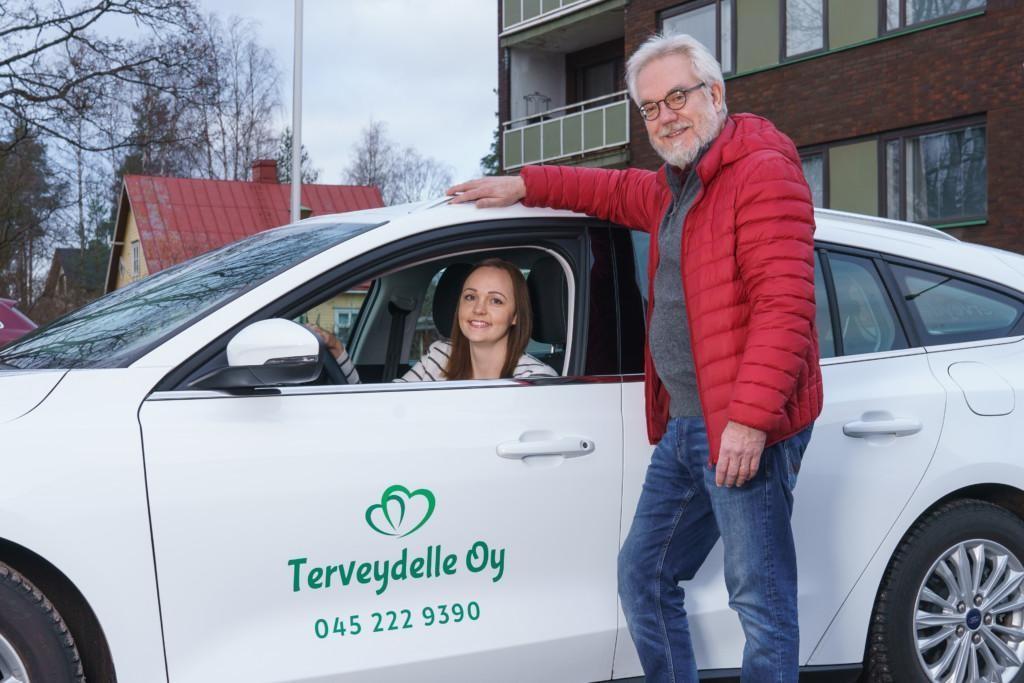 An entrepreneur found her calling in elderly home care
Taija Tetri-Kivikangas wanted to offer unhurried and preventive homecare for the elderly. In the beginning, she worked alone as a private trader. Now she runs a limited liability company Terveydelle Oy that employs 12 people.
Taija from Hyvinkää decided to become an entrepreneur in 2017. She was on educational leave from her job as a nurse when she established her enterprise as a private trader called Kotiterveydenhoito Tetri. During an evening jog, she delivered brochures to mail boxes and made visits to senior citizen's clubs.
"I found my working calling with the elderly." Home care must be preventive and stimulating for the clients.
Taija comes from a family of entrepreneurs. She applied for start-up money and contacted YritysVoimala, her local Enterprise Agency.
"I just started from somewhere and wanted to see where it would take me. I'm an impulsive optimist."
The customer base grew rapidly. After six months, Taija had to either hire an employee or say no to new customers. She applied for a pay subsidy and was able to hire an employee.
"The start-up money and pay subsidy were indispensable, as well as the encouragement from the business advisor. I was given advice but also tough questions to think about."
Exceptional supervision
Business Advisor Jukka Pötry, who works for YritysVoimala, the Enterprise Agency for the Hyvinkää-Riihimäki area, has been in touch with Taija about ten times in the last three years.
"For a healthcare professional, the bureaucracy related to running a business might seem challenging. For me, however, it is a field of expertise."
The healthcare industry is strictly regulated by authorities. The entrepreneur must inform the municipality about their intention to offer social services as well as deliver their permit application concerning their upcoming health services to the Regional State Administrative Agency.
"The public supervision is exceptional compared to any other field of business."
According to Jukka, the growth of a homecare business depends on the entrepreneur's skill to market their services.
"Taija has done great work and she has been able to communicate about it to others."
With the growth of her business, she realised that her company should have a growth strategy. She wanted to be able to control her business' growth herself.
"I wanted to maintain the same level of service quality and give a sense of there being no need for haste."
In February 2019, Taija changed from a private trader into a limited liability company named Terveydelle Oy. Before making the change, she calculated with Jukka how the change would affect her taxation. However, Taija was not prepared for the time the change in the enterprise form would take, which was months.
"I had to re-apply and pay for my permits again."
Time for growth
Terveydelle Oy offers far more than just homecare. The nurses take walks with the clients and play games to keep them company. The client's personal programme might include memory games and exercise.
Taija has 12 employees at the moment, eight of which are employed full-time. The company employs a public health nurse and an elderly care professional, as well as nurses and practical nurses.
Taija has tried to hire employees from different age groups with varying backgrounds and education.
"My own role has changed dramatically. Instead of working with the clients, I'm managing my staff and doing administration work. This has been a time of growth for me as well."