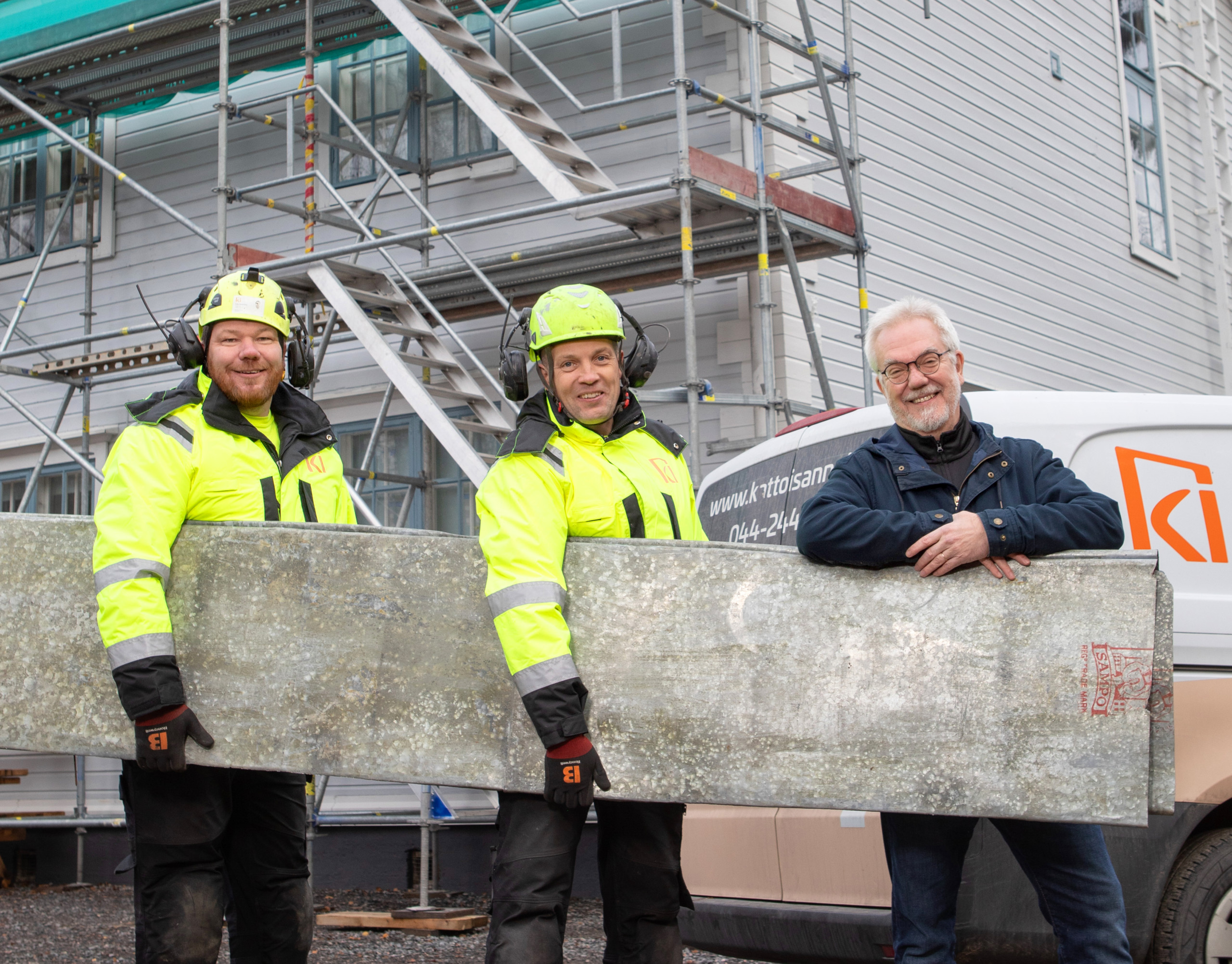 A long-term dream turned into a reality
Four years ago, Mauri Carlson and Esko Haverinen left their jobs and founded a roofing company where they would share equal freedom and responsibility. Their dream of becoming entrepreneurs finally came true after 20 years of waiting.
Mauri and Esko had both worked in the roofing industry for twenty years when they decided to realise their long-standing dream of becoming entrepreneurs. They already came close to starting a business ten years ago, but ended up staying in their jobs. Years later, at the beginning of 2019, they finally took the plunge and founded their own roofing company, Kattoisännöinti Oy.
– We have always had a passion for entrepreneurship. It has dwindled down at times, but after a while, it has always resurfaced. We could never shake the idea of starting a business, so we had no choice but to do it. At least when we're old, we won't have any regrets for not trying, Mauri and Esko say smiling.
Insight and advice
Before the company was founded, the competitive situation was easy to assess due to the entrepreneurs'  existing know-how and experience. They also collaborated with the Enterprise Agency YritysVoimala Oy – Hyvinkään ja Riihimäen seudun Uusyrityskeskus. Meetings with business advisor Jukka Pötry confirmed that they had all the prerequisites for developing a successful business.
– They had clear plans. I was mainly expected to take a look at the financial calculations they had already prepared. From the get-go, their goal was to build a large employer company, so they did not intend to only employ themselves, which is more typical for starting entrepreneurs, says Jukka.
The company was already up and running in just a few weeks after the first meeting.
– We got all the paperwork in order after a couple of meetings with the Enterprise Agency. We immediately applied for a loan from the bank and submitted a business ID application, Mauri and Esko state, describing the quick start of their journey.
The customer's needs come first
Entrepreneurship has allowed Mauri and Esko to develop their long-term ideas. Life-cyclethinking, customer orientation, integrity, and transparency are among the core values that guide the company's daily operations. Whenever possible, Mauri and Esko always aim to repair a damaged roof, even if another company would rather replace it.
– Our goal is to serve customers. We never try to sell unnecessary work. That would be a waste. We have no need to push our services to customers, says Esko.
The entrepreneurs have believed in their success from the beginning, and now they can say that they have succeeded better than they could have expected. The company has grown rapidly in the first years, by nearly 100 per cent per year.
– We have always had confidence in what we do, so we have been able to offer and carry out large projects. A profitable business is our number one priority, says Esko.
Currently, the company employs 23 professionals. The team includes both young metalsmithing students and experienced industry professionals.
– We don't really have the urge to expand our operations anymore. If we stay where we are, we can ensure that we also have enough free time, Mauri and Esko state.